Vitality Announcements
Summer is in our midst and there are some changes to Vitality that are long overdue in announcing:
Our rates at Vitality have increased, so please be aware of that the next time you pop in for an appointment. Also the HST will come into place in June, but our prices will not change to reflect this until early next year.
At the end of 2009 we were pleased to bring on board Michelle Relf, RMT. Given Michelle's experience she has been an instant success. In January, we had the pleasure of bringing on one of Michelle's classmates, Corinne Compton, RMT. Then in February Sanae Komuro, RMT, a graduate of the Victoria College of Massage joined our team. All three therapists have been very keen to build their practices and contribute as team members to Vitality.
As of the end of January we said a fond farewell and a good luck to one of our senior team members, Heather Tobin. She and her family have moved back to the interior to be closer to family and to try out new adventures. Heather is continuing to work full time in Castlegar and is enjoying her time there very much.
"Having worked at Vitality for almost 10 years I have to say that we strive to have an environment where our RMTs enjoy working and a large part of that is the great people we are treating so thank you for being part of our environment and thanks for your support." - Heather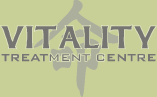 In This Issue:
Vitality Announcements
Marathon Training
Babies & Massage
Vitality Treatment Centre
302-1842 Oak Bay Ave
Victoria, BC V8R 1C2
Ph: 250.370.1020
Hours
Monday to Friday
8:30 am to 7:00 pm
Saturday & Sunday
8:30 am to 5:00 pm
Training for a Marathon: thoughts about training realities in a busy life
Now I get it.
Beth asked me to write something for the Vitality Treatment Centre website. Immediately my insecurities rose to the fore front. Write? I'm not a writer. What would I write about?
Beth suggested I could write about my training for my marathon. I do not have any new secrets for training harder, easier, faster; no news on fitness and nutrition; nothing new on technical gear. After much time thinking about it, I found an approach that sat well with me. I would write about the journey that brought me to my current endeavor and add an apology at the end.
An apology? Yes.
A little background information...
Read the rest of her story on our website...
Bellies, Breastfeeding and Babies:
How Massage Therapy can help if you're pregnant, breastfeeding or have a new born
Before I had children I could only talk about the challenges of pregnancy, breastfeeding and/or having a newborn. Now I can feel those challenges with every fibre of my being; hence the impetus for me writing this article.
In pregnancy your body goes through obvious physical changes. The way we respond to these changes vary greatly. The benefits of massage therapy can address a myriad of physical manifestations. Not only can we do hands on work but we can suggest coping mechanisms for sleep positions and exercises to perform at home to ease some of the ongoing challenges.
Massage can help:
with emotional and psychological challenges a woman may feel
during labour - ask your massage therapist what positions might be good and then teach them to your labour support team
with your recovery, once your baby is born
avoid blocked milk ducts
newborns' digestion, stretching those little limbs and anything physical that may present
Vitality Treatment Centre is a multi-disciplinary health treatment centre located near the Oak Bay Village of Victoria, BC, Canada.
Modalities We Offer
Massage Therapy
Manual Lymph Drainage
Cranio-Sacral Therapy
Trad'l Chinese Medicine
Myofascial Release
Hot Stones Therapy
Gift Certificates Available